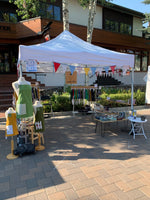 About Me
I started my business in 2007 after the birth of my first son. Having worked in coorporate prior, I knew that I didn't want to go back to the hours, the schedules, the demands.
My goal has always been to make quality handmade wares that will get everyday use and bring some color and brightness into people's lives.
I am involved in every step to make these products. The process begins by picking the right materials, not only color combinations (yay mismatched!) but also the quality. The goal is that the products you purchase from me last a long time and hold up to everyday use. I then wash, cut and get a little bit of help on some of my production, (there's only so many hours in the day!), and finish off each product so that it's ready to sell.